Supporting and funding music education for the region's youth has been a part of the RCA mission from its inception. Dating from 1983, RCA has hired performers who are dedicated to educating students, and student outreach programs have been made available in area schools. With the introduction of the Donor of Note giving program, additional gifts have made it possible to expand the RCA Student Outreach program.
Budgets for arts in public schools are shrinking everywhere. In March each year, RCA accepts applications from Northern Neck music teachers who need supplies, instruments and teaching materials for their classrooms. Please print out our application and complete it as directed.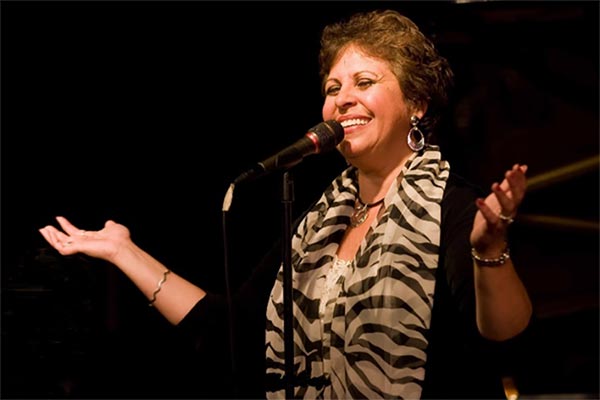 April 2017
Stephanie Nakasian
Ms. Nakasian, a UVA and William & Mary jazz vocal professor, gave a workshop to Northern Neck choral students on powerful but safe singing. They were enthralled by her ability to sound like a trombone with a mute, or a trumpet, or a clarinet. Best of all, she proved that improvisation is a learned skill!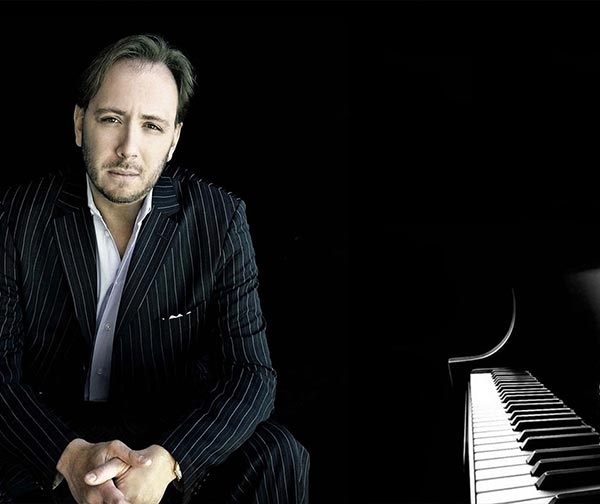 November 2016
Thomas Pandolfi, Solo Pianist
Mr. Pandolfi gave two student concerts to Northumberland and Westmoreland County students. Here's part of a press release by Patty Long, from the Westmoreland County School Board:
"Fifty-six Cople Elementary School 5th graders and their teachers recently attended a piano concert at Northumberland County Schools Performing Arts Center. Guests of the Rappahannock Concert Association, (RCA), the students listened to Thomas Pandolfi, a concert pianist who was performing later that day in an all Chopin concert. His performance for the students was a study of several different styles of music including Liszt, Rachmaninov, and an interesting left handed only piano piece that left the students guessing 'how did he do that?"

The Strings Crewe
In 2017, RCA received a $13,700 bequest from former board member Carolyn Crewe Gray. The leadership voted to spend it all on its mission to support music education for the region's youth. RCA organized focus groups to identify the best use of the new funds. Participants included retired musicians, music teachers, executives from the YMCA and local school boards, and other community leaders who serve our children. They found that no strings instruction took place in the public schools, and recommended the Suzuki method, a natural learning process, for elementary-aged children, with the goal to initiate a youth string orchestra in the future. These youngsters are named "The Strings Crewe" after their benefactor. Instruments and private lessons are free. Parents must attend each lesson and supervise practice during the week and also provide listening time assigned by the instructors.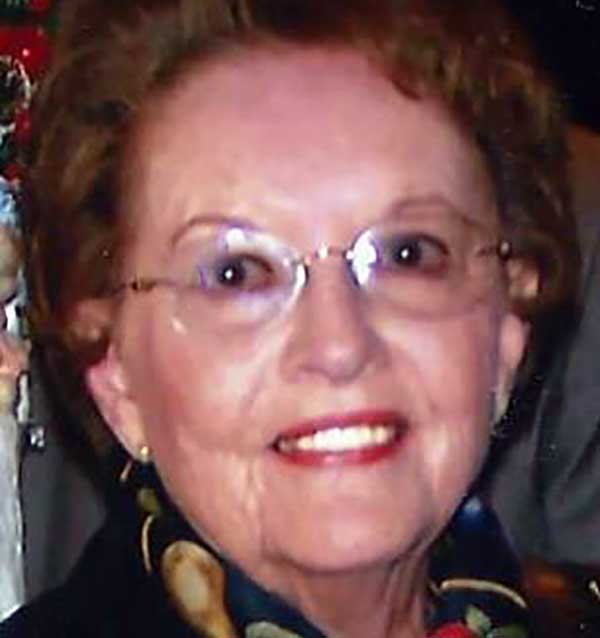 In Memoriam, Carolyn Crewe Gray
Recitals
October 2020 Playground at Campbell Memorial Presbyterian Church.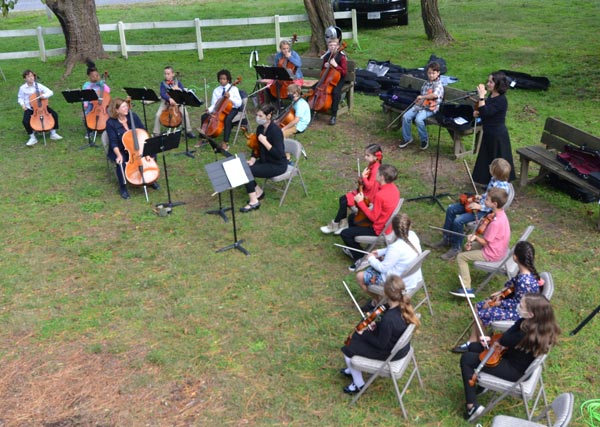 Recitals are actually performance classes, and the audience is the teacher. Here's a video of Strings Crewe violins playing "Twinkle" variations in a 'follow the leader' exercise. Five students are the leaders. Each leader stands in front of the others and plays the first measure of his/her chosen variation: the melody is the same, just the rhythms are different. This is harder than it seems, because as the last measure of one variation is being played, the leader next in line continues playing while he/she steps forward to the leader's spot, then must immediately launch into the chosen variation. YouTube Video
Beginners and 3rd- year students play together: Violins, violas and cellos playing Handel's "Chorus from Judas Maccabaeus" in three lines: YouTube Video
February 2020 – St. Johns Farnham Church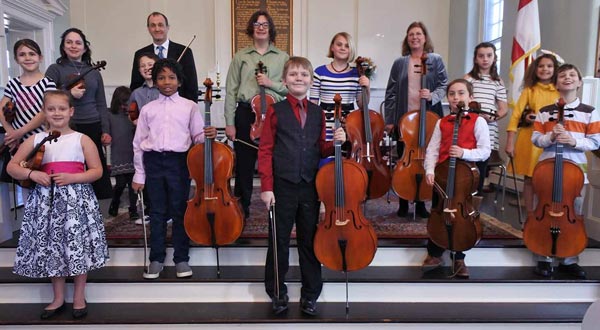 A heartwarming recital by our 18 violin, viola and cello musicians, aged 7-12, was held in this 1737 restoration with beautiful acoustics.
August 2019 Campbell Memorial Presbyterian with the USAF Strolling Strings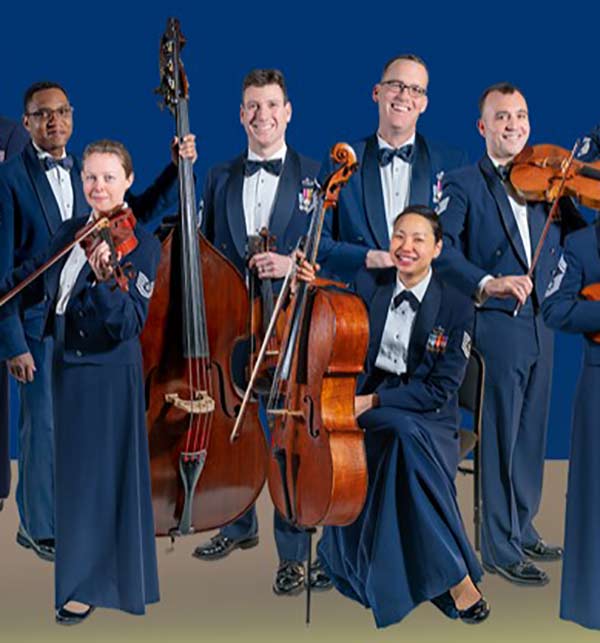 The Strings Crewe hosted the famous USAF Strolling Strings at its August 2019 recital at Campbell Memorial Presbyterian Church in Weems. Twenty uniformed musicians filled the sanctuary with uplifting selections, and provided the audience with stereophonic music while strolling around the pews. A unique and uplifting experience!
Instructors
Mei-Li Beane teaches violin. She studied music at Rutgers University, the Conservatory of Seville, Spain and the College of William and Mary from which she holds a degree. She is a member of the Northern Neck Orchestra.
Rebecca Young teaches cello. She graduated from Westminster College in New Wilmington, PA, where she studied cello and graduated with a degree in Music Education. She taught public school music in Ohio and New Jersey for over 32 years.
Christina Totton teaches violin and viola. She graduated from Boise State University with emphasis on viola and opera. As a member of the US Air Force, she founded a junior string orchestra on the island of Okinawa. She also operates a studio in Gloucester called the "String Bean."
Instruments
Instruments are sized to fit the child and provided free! The William Mason II Violin Shop in Fredericksburg gave 48 instruments in all sizes to the Strings Crewe. We thank Campbell Memorial Presbyterian Church for storing our inventory.
Venues
In-person lessons were suspended in March 2020 due to the Covid pandemic, but online lessons using ZOOM commenced immediately. In person lessons resumed in June 2020. All in all, we taught more in-person lessons in 2020 than we did in 2019! After-school space for lessons are at the Northumberland County Public Library in Heathsville, Campbell Presbyterian Church in Weems, and St. John's Episcopal Church in Warsaw.
Enroll Your Child
To enroll your child in the Strings Crewe, CLICK HERE to download our information flier. Students may choose violin, viola or cello. Instruments are sized to fit.
Strings Crewe Advisory Board
Badger Godwin, RCA Board Member, and Northern Neck Orchestra (NNO) Board Member
Eric Jacobson, NNO Board and Musician
Jamie Tucker, President, Rappahannock Foundation for the Arts
Walt Mallorie, RCA Board and NNO Musician, Retired NHS Band Director
Joe Stieve, RCA Board Member, Strings Crewe Treasurer
Arline Hinkson, Rappahannock Music Study Board, NNO Musician
Sue Nunn, Past-President RCA and Director Crewe Program
In October 2019, the Advisory Board developed a long-range plan toward launching youth orchestras on the Northern Neck.
September 2020: Form string ensembles with third-year students.
September 2021: After three years in Crewe, students 'age out', but 'age in' immediately to the String Orchestra for NN Youth (SONNY). This will be a junior strings program for all students with at least one year of private lessons. No auditions required. Affordable tuition to be determined.
September 2024: Launch the Northern Neck Youth Orchestra (NNYO), enrolling wind, brass and timpani musicians from area high school bands.
For more information about the Strings Crewe, contact Sue Nunn, Director Crewe Programs, at (804) 472-4489 or suenunn41@gmail.com. To donate specifically to the The Strings Crewe, CLICK HERE, or make your check payable to "RCA Crewe Program" and mail to P.O. Box 342, Heathsville, VA 22473.
Other funding support for the Strings Crewe was granted by the Gloucester Community Foundation, River Counties Community Foundation, UUFR Servetus Endowment Fund, Virginia Commission for the Arts/National Endowment for the Arts, the Cole Charitable Trust, Northern Neck Orchestra, the Wall Foundation, Agape Endowment of Campbell Memorial Presbyterian Church, the Rappahannock Music Study Club, and generous individual donors.